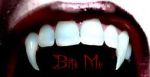 You know, people are saying that the market is saturated with vampire tales. Can such a thing ever happen?
;)
I mean, I can't get enough. I
love
vampires. I don't care if they're the good guys, bad guys, brooding, happy, suicidal - as long as I get to read about them, I'm good. Oh, and write about them too.
Personally, I never want the vampire books to stop coming.

What about you? Let me know what you think. I mean, I can't wait for the Vampire Oracle books to be released. Not long to go now, huh? How cool is that?